A Gravely for All Seasons
02/09/2016
Gravely's four-seasons logo is nearly as iconic as the tractor that launched the brand. Although the logo was simple in appearance, it represented one of the things that made the Gravely tractor a success.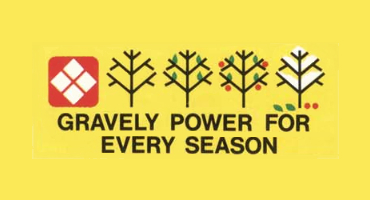 The four-seasons logo represented how the Gravely tractor could be used in all seasons, depending on the attachment. With the snow plow, the Gravely tractor could be used for snow removal in winter. By swapping out the snow plow for a seeder-spreader, the tractor could be used to fertilize a lawn. As described below in a 1970s Gravely catalog, the Gravely tractor was incredibly versatile.
The unexcelled performance you get from Gravely is not just a seasonal thing. With 39 attachments powered by the Gravely tractor — job-designed tools that run the cycle from lawn mowing to snow blowing — there's virtually no limit to the versatility you get from Gravely.
Throughout the year, the Gravely Tractor is the basic element of a power system that you can tailor to your individual job requirements. No need to purchase numerous single-purpose tools, each with its own costly engine, when with Gravely, all you need is the one power unit that works year-round for you … the dependable, all-gear drive Gravely Tractor that powers your choice of 39 attachments.