Redesigned From the Inside Out
02/26/2016
One hundred years after Benjamin Franklin Gravely patented his motor plow, the Gravely brand continues to make similar advancements in the outdoor power equipment industry.
Redesigned from the inside out, the new Gravely® Pro-Turn® 200 and 400 series zero-turn mowers feature smarter components, a smoother ride and more intuitive controls.​​
One of those smarter components is Gravely's all-new constant belt-tensioning (CBT) system. In addition to maintaining a constant belt tension on the unit, the CBT system enhances the unit's overall performance in several ways:
Produces a consistent blade tip speed
Eliminates belt slippage that can damage belts and pulleys
Improves engine efficiency and reduces the load, which saves fuel and engine life
Eliminates spring adjustments by assuring consistent cut quality.
Another new competent is the improved deck level system, which features an exclusive design that requires only a four-point adjustment. This reduces parts by 50 percent, which helps the mower maintain its best cutting performance. The deck level system also eliminates deck hanger welds, resulting in a flat deck and improving cut quality.
Also new for 2016 is the EZ Lift™ deck system on the Pro-Turn 400 series. The EZ Lift deck system requires 25 percent less effort to operate, and is manufactured with 50 percent less parts. The 19 cutting positions with quarter-inch increments help eliminate overhung loads.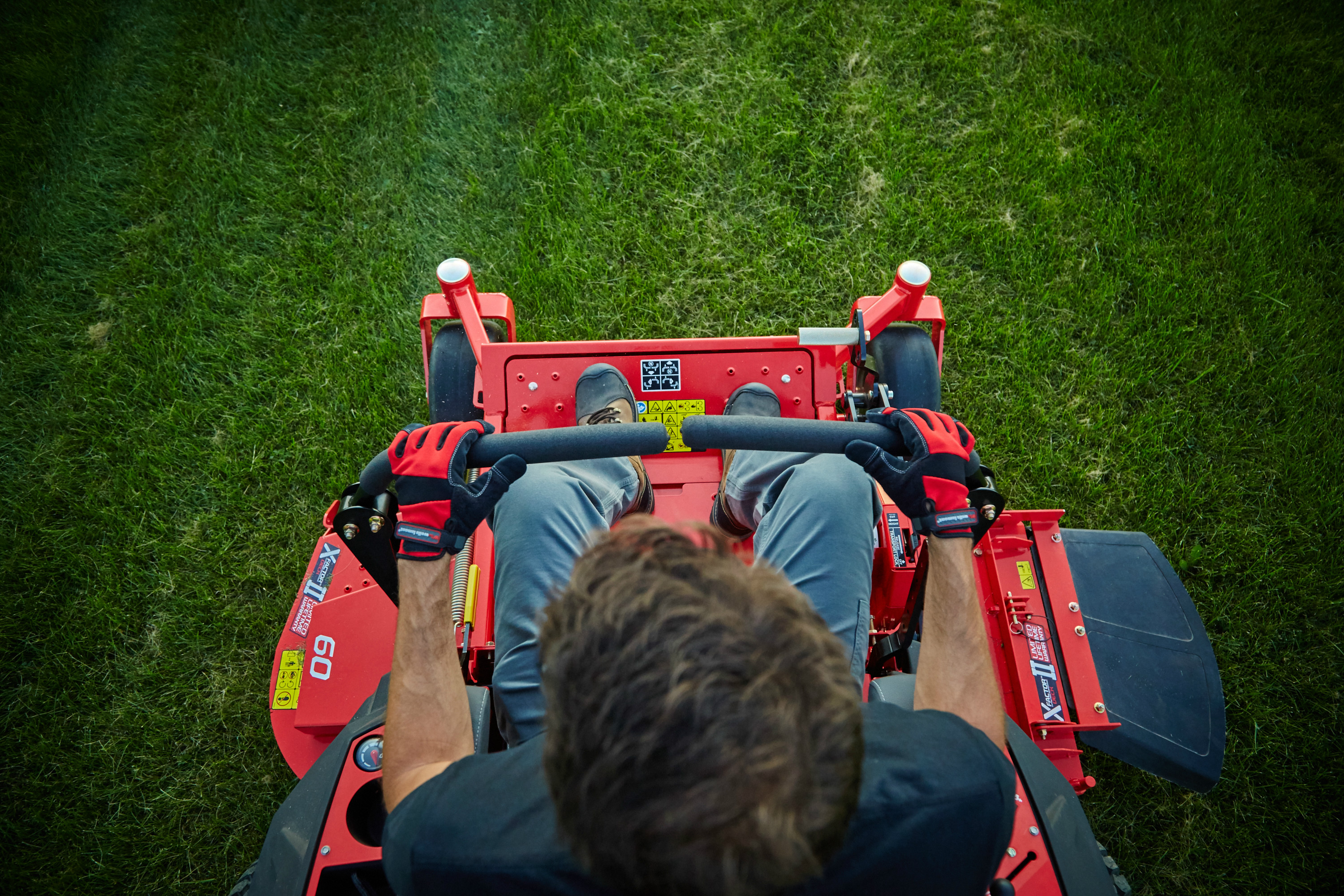 The Pro-Turn 200 and 400 also have new custom-made seats that offer more support and comfort than previous models. The Pro-Turn 400 has a high-back comfort seat that integrates elasticity vibration control (EVC), which moves and flexes up to 1.5 inches with the operator, reduces low amplitude vibration, and takes pressure off of the operator's spine and tailbone. These new seats integrate several other features for optimum comfort:
Three-inch air suspension with a three-inch pillow top insert and a 12-volt internal air compressor
Concave lateral support with spinal detent and side bolster
Reclining backrest
Adjustable, padded armrests
Adjustable lumbar
Two-inch retractable seat belt
The 72-inch Pro-Turn 200 and 400 series mowers also feature Gravely's new X-Factor™ II deck, a seven-gauge, all-steel, welded deck that comes backed with a lifetime warranty. The deck has a notched blade and a better blowout profile, preventing grass from blowing out the front of the deck and onto the operator. The larger deck allows grass to move more freely through the space, improving efficiency and quality of cut.
Other performance upgrades to Pro-Turns in both the 200 and 400 series include improvements to the discharge chute, control panel, steering controls and mulching kit. The Pro-Turn 400 features Superior Traction Technology (STT) radial rear tires, which help operators overcome challenging mowing conditions with less damage to the turf they are working on. Puncture-proof semi-pneumatic front tires make the Pro-Turn 400 and 200 long-lasting, durable machines.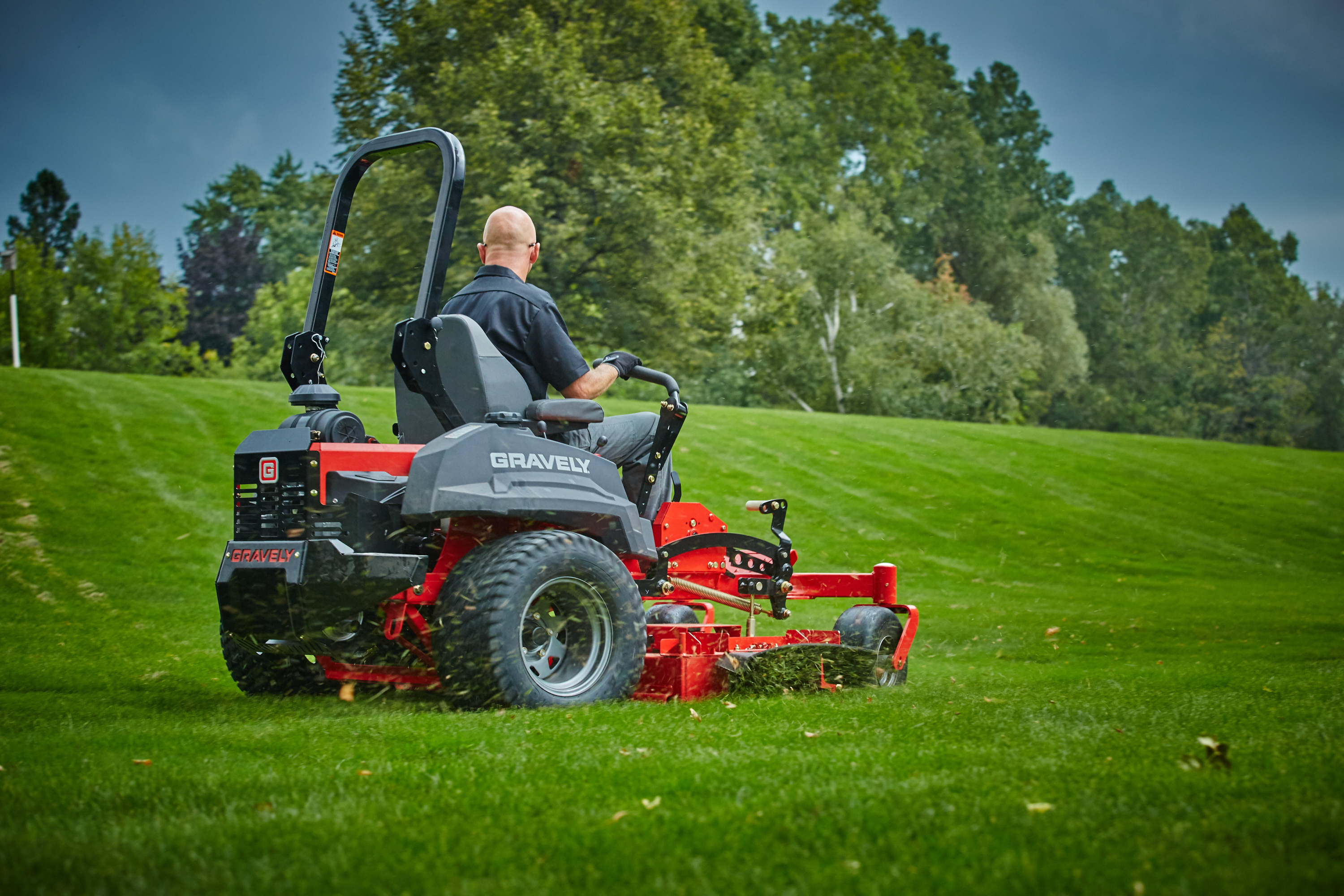 "The new Gravely 200 and 400 Pro-Turns were inspired by the landscape contractors that use our machines all day, every day," said Gravely Vice President of Marketing Matt Medden. "We've spent years researching and talking to the professionals who rely on our equipment, and we used that feedback to redesign and reinvent the Gravely brand.
"As we step into our 100th year of business, we couldn't be more excited about the next generation of Gravely commercial mowers. We've thought about everything with this new lineup, from the belt system and X-Factor™ II deck, to the new seats, to the overall appearance, and we think we've created something that will really astound our customers as we welcome the next era."
The Pro-Turn 200 and 400 were also designed following Gravely's new visual brand language (VBL), displaying visual cues that are stout, solid, structural, chiseled and energetic. The Gravely Atlas JSV™, introduced to the market in 2014, was the first product to display the new Gravely VBL, and many of the JSV's visual characteristics were carried over to the new Pro-Turns.
"The Atlas JSV and the new Pro-Turns are a new chapter for the brand," said Ariens Company Manager of Industrial Design John Adams. "We knew that it was critical not only to bring the right feature set to market, but also to bring the right look and feel of the product that resonated with the end customer — not just because we wanted it to look cool, but because this is what these guys do for a living. They're professionals, and they deserve a product that reflects their professional expertise and the work that they do."