LA Landscapes Saves Time by Using Gravely
05/11/2016
Lee Ackerman of LA Landscapes in Noblesville, Ind., has been building his landscaping business for more than 25 years. Now a booming business, Ackerman runs six crews, has a fleet of zero-turn mowers and has more than 100 properties in his portfolio.
Throughout the course of his business, Ackerman has used a variety of outdoor power equipment brands. However, he has remained loyal to his dealer, McGavic Outdoor Power, whom he believes helps him make the best equipment purchasing decisions for his business. Recently, McGavic steered Ackerman toward Gravely zero-turns, because he believed that the company's customer service, coupled with the equipment's quality would be the best fit for Ackerman.
"We switched to Gravely primarily because our dealer recommended it," Ackerman said. "We have a great relationship with McGavic Outdoor Power and we trust them to tell us the direction we should go in. For me, I remember Gravely zero-turns were pretty popular when I first started my business, so I knew the name already, and that also helped us make the decision to switch."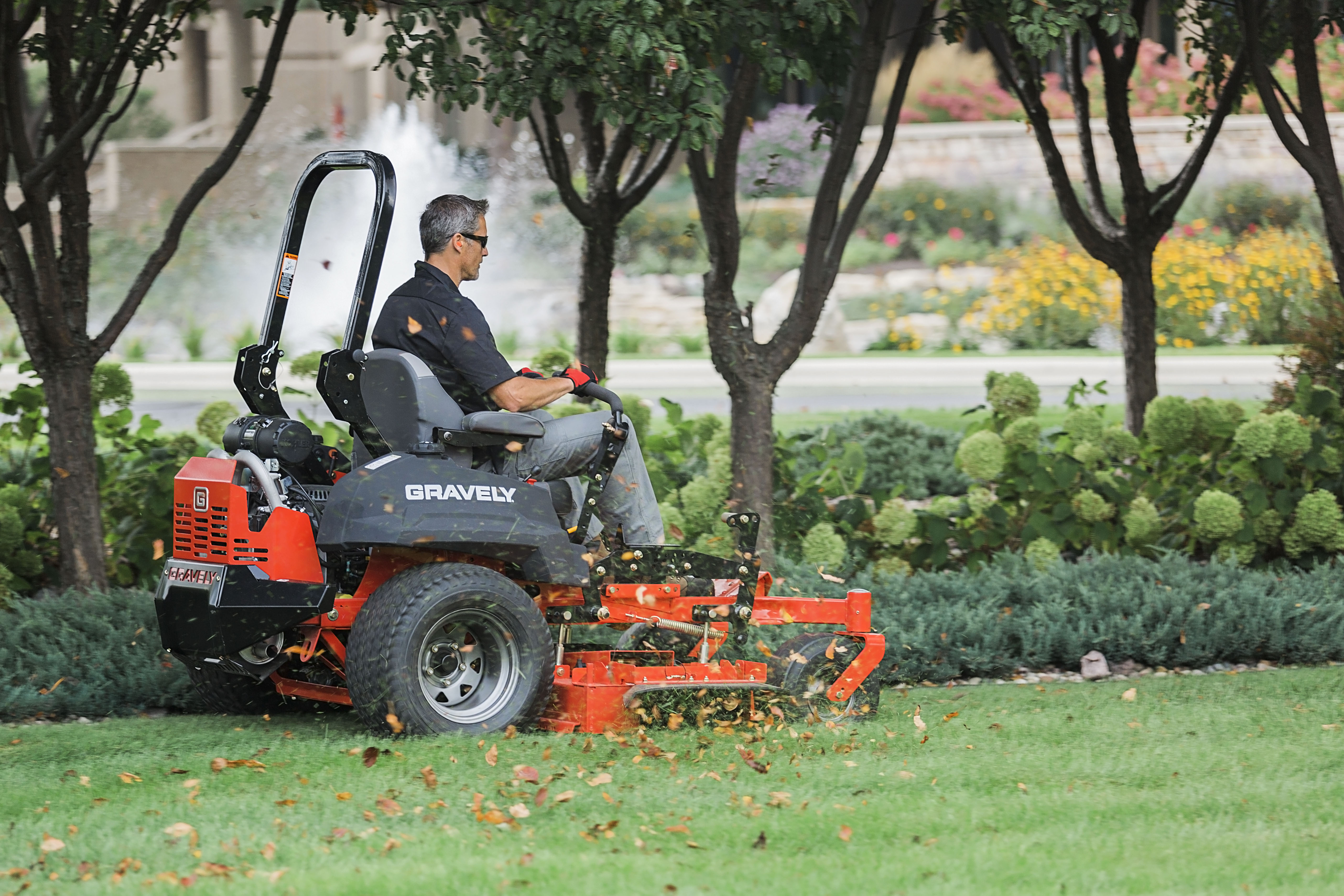 So far, Ackerman couldn't be happier with his dealer's recommendation and his decision.
"I've really been liking my Gravely fleet since we made the switch from other brands," Ackerman said. "We've had some issues, but you have that with any brand. To us, it's really about who's standing behind the product, and we believe that Gravely has done a great job of that so far."
One of the things that Ackerman likes best about his new zero-turn fleet is the performance of the machines. Compared to other zero-turn brands, Ackerman says he sees a noticeable difference in the way that Gravely's Pro-Turn series zero-turns perform and in the quality of the cut that they produce.
"Gravely has a great product. I'll tell you that with the zero-turn mowers I was using before, we pretty much had to double cut all of our properties every day," Ackerman said. "With Gravely, if we ever double cut, it's because we want to, not because we have to. It's pretty evident to us that Gravely has a higher quality piece of equipment."
On the customer service side, Ackerman cites the Gravely Assurance Program, which provides loaner units to landscapers when their equipment is being fixed, as a business game-changer.
"In the landscaping business, the profit margin is probably one of the lowest in the service industry, so we really rely on our equipment to be there for us," Ackerman said. "As a small business owner, it's hard to justify having a $10,000 piece of backup equipment, so the Gravely Assurance Program is critical to us and to our bottom line. We've only had to use it a handful of times, but it's saved us, and helped make sure that our crews are out cutting and not sitting home. For us, it's made a good decision even better."