A Fan for 50 Years and Counting
01/05/2016
Rusty Savignac has been interested in Gravely tractors for more than 50 years, since his father purchased a Gravely Model L in the early 1960s.
"I guess at that point, Gravely and I got married; and we've been inseparable ever since," Savignac joked.
When Savignac, co-owner of Paxton Garage, a repair shop in Paxton, Mass., was around nine years old, his father gave him the job of maintaining his garden and mowing the lawn with their Model L. For Savignac, the task was more play than work.
"I loved doing it. It was to the point where I'd take the lawnmower (attachment) off, put the sulky on with a roller rest, and simply drive the tractor around the yard for fun," he said.
Savignac's love for Gravely comes from more than the excitement of using the machines. Due to his mechanical background, he recognizes that the equipment was built to last.
"Those old tractors are head and shoulders above anything else made at the time, and since that time, for durability and longevity," he said.
His father's Model L, which is more than 50 years old, is a testament to that. Though he has done some minor work on it, the Model L is still running like the day his father purchased it.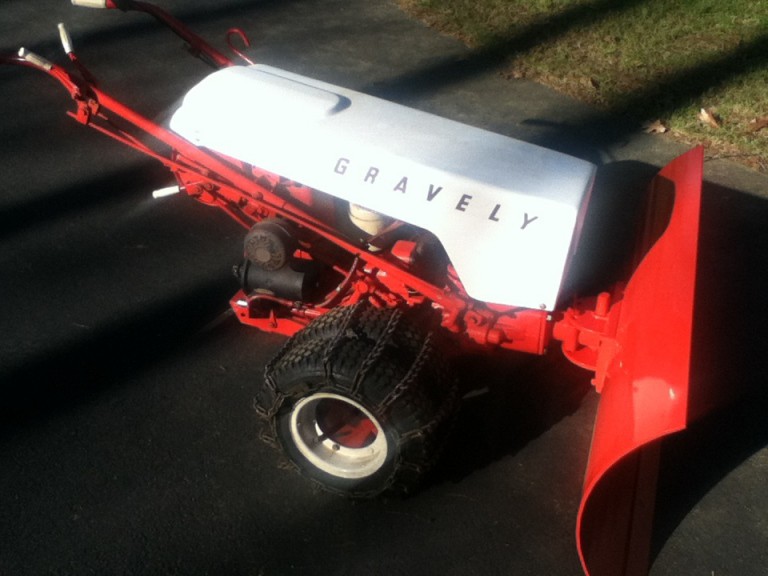 Savignac's L-8, passed down from his father
Unlike Savignac, many Gravely owners give up the old machines when it comes time to repair them, due both to the cost and to the difficulty of finding someone to repair them.
"Between the cost of the parts to repair it and the labor to repair it, the job could easily be $2,000," Savignac explained. "The average guy wouldn't even consider spending that much, so he goes to his nearest home improvement store to buy a $900 green rider, which he thinks is a tractor, but it's nothing more than a pressed-tin lawnmower."
Those who don't want to pay the high repair costs, though, help Gravely lovers like Savignac build their collections.
"Old machines just sit there until someone like me comes along," Savignac said. "I get these machines for free and either use them for parts or fall in love with them — and I then spend 20 times what it's worth to put it back in good order."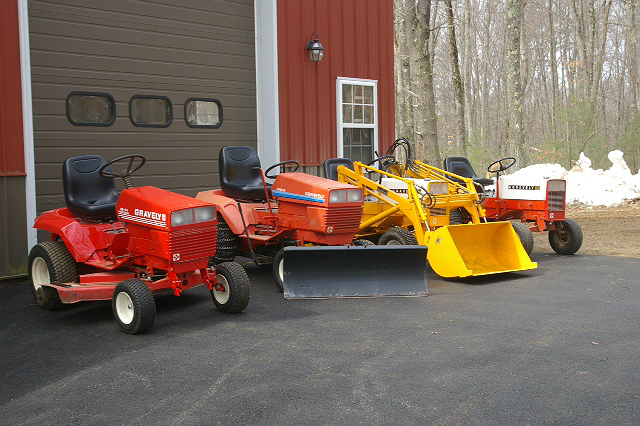 Savignac's fleet of riders
Savignac owns several Gravely tractors, including his father's Model L and several G series tractors. He explained that the machines in his collection came to him in various conditions.
"Along the way, they were either well maintained, needed refinishing, or in some cases, needed to be completely restored," he said.
Though he won't pick a single favorite, much like a parent who loves all of his children equally, Savignac has two tractors that are most special to him.
"My 450 (riding tractor) is a prize-winning tractor. People drool over it all the time. That's one of my favorites. My sentimental favorite is, of course, the first one my dad bought in the '60s," he said.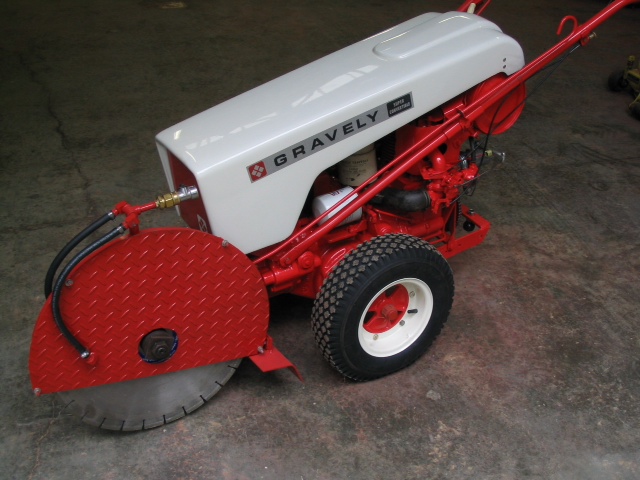 A concrete saw attachment that Savignac built
Savignac can't choose a favorite, he explained, because all Gravely machines are equally as impressive.
"I know people will rave about other brands, but they don't hold a candle to the way Gravely built the walkers, the 400 series, the 800 series, the 8,000 series and the G series. They're just a superlative machine."