Gravely Aficionados Serve As Product Authorities
02/26/2016
Throwback Thursday is a weekly Internet tradition when people post photos from the past with the hashtag #TBT. We regularly participate by posting photos that span the 10 decades of Gravely's history on our Facebook, Twitter and Instagram accounts.
Throwback Thursday photos we've posted on our Facebook page
Since Benjamin Franklin Gravely patented his motor plow in 1916, hundreds of models have been released under the Gravely name — some with only small adjustments differentiating them from another model.
For Gravely enthusiasts and collectors, however, those small adjustments are markers on Gravely's historical timeline: clear indicators of a machine's model and year.
In mid-December 2015, we posted a photo of a Gravely Model L to our Facebook page for Throwback Thursday. We added a caption stating the machine's model and year: "Mowing with a Model L two-wheel, 1940s. #TBT."
Within an hour of posting the photo, several enthusiasts commented, explaining that our date was inaccurate due to certain features on the machine.
"From the looks of the tractor hood, Gravely decals and large oil plug on top of the brush hog, this (is a) 1960s model tractor," one Facebook user said.
"1963-1966. First new style hood with early decals," another user said.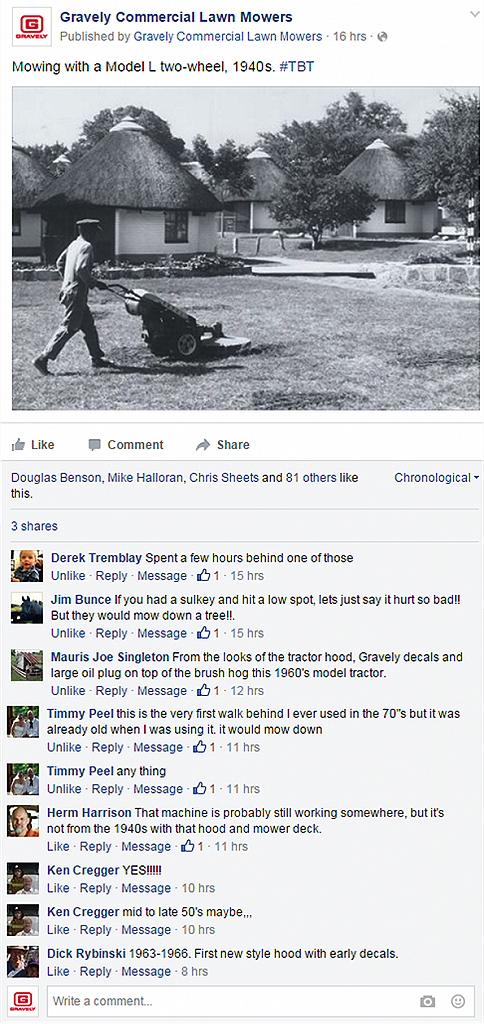 Steven Swintosky, who refers to himself as a Gravely aficionado, said this knowledge of Gravely machines is characteristic of those who are fans of the brand.
"I can't tell you how many times I've seen people post a picture of a machine that has Gravely paint on it, but they're not sure what it is, what it's for or where it came from," Swintosky said. "Invariably, someone else already knows everything about it. The pool of knowledge is deep and wide, and there are plenty of people out there who are willing to help."
Swintosky is a member of one of the many online and offline groups that aficionados have formed to celebrate the Gravely brand and its products.
"Most of the people working at Gravely today don't have a lot of knowledge about the older tractors," Swintosky said. "If you call up about your zero-turn or the Pro-QXT™ Tractor, they can bowl you over with information, but the older knowledge has retired — for the most part — from the company. But there's still a lot of knowledge about those older machines in the general public. There are aficionados who know a lot about the tractors and are more than willing to share that information freely. That's one of the best things about the Gravely community."