New Gravely Lawn Mowers of 2019
Comfort, reliability and power come standard in this year's newest lawn mowers
By Aaron Abler, Email Marketing and Content Specialist
Lives of hard workers move fast, meaning the mowing season will be here sooner than expected, especially in the South. As we look ahead to spring, it's an exciting time at lawn mower dealerships as they receive new, innovative, powerful and comfortable riding lawn mowers.
Zero turn vs lawn tractor
Think zero turn mowers aren't right of certain jobs? Think again. A zero turn lawn mower has more value than a lawn tractor in any application. Lawn tractors are all the same and leave little room for the innovations, comfort, features and performance options in zero turn lawn mowers and other landscaping equipment.
Zero turn lawn mower are:
Built with thicker steel
Have adjustable seats and steering levers to provide superior comfort for operators of all shapes and sizes
Drive and mow faster
Turn on a dime
Have adjustable deck features to fine-tune cut quality
Have deep, durable steel decks that promote superior airflow
Are available with numerous power and deck size combinations
Overall, the design of a zero turn lawn mower allows it to be big, small, heavy, light, and configured to work in the applications desired by both homeowners and professional landscapers.
Entry level lawn mowers
How do you start a landscaping business? You'll need capital for your new landscaping company. At the very least, a trailer and a truck to haul your new commercial lawn mower around. You already spent what seems like a fortune, so its ideal that you can find a quality built, yet inexpensive lawn mower.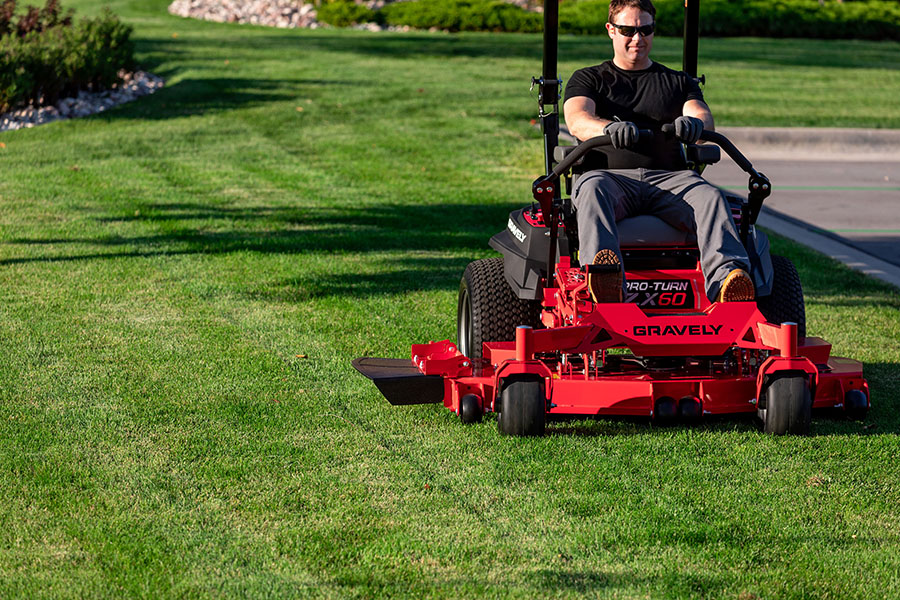 The Gravely® Pro-Turn® ZX
Built on a commercially proven, fully welded tubular frame rail, equipped with a 10-gauge fabricated mower deck and forged aluminum spindles, the Pro-Turn ZX is the highest quality commercial mower in an entry-level category. Impressive features for a unit with an attractive price point, but what else separates it from other lawn mowers in that same class?
With choices of 48, 52 or 60-inch deck options, the Pro-Turn ZX gives those entering the professional landscaping business a custom-designed, high-back, plush seat with padded armrests and seat isolation for all-day comfort. Changing cutting heights between one of 15 cutting positions is done quickly with an effortless push of the deck lift pedal and a pull of a pin located within the operator's reach.
Power from a Kawasaki FX engine and a pair of Hydro-Gear ZT-3200 transaxles makes the Pro-Turn ZX a lawn mower for all landscapers. Gravely trademark constant belt tension, or CBT, gives this mower a consistent blade tip speed that results in a cut quality expected of a quality lawn mower.
Small lawn mowers
Mowing around tight spaces isn't a task for a push mower, it's a job for a fast, nimble zero turn lawn mower that can get the job done quickly. Remember, "zero turn" doesn't always mean big. For a number of years, Gravely offered a small zero turn lawn mower in its lineup, but its 2019 ground-up redesign enhances all aspects of the user experience to a point where users will hardly recognize the former.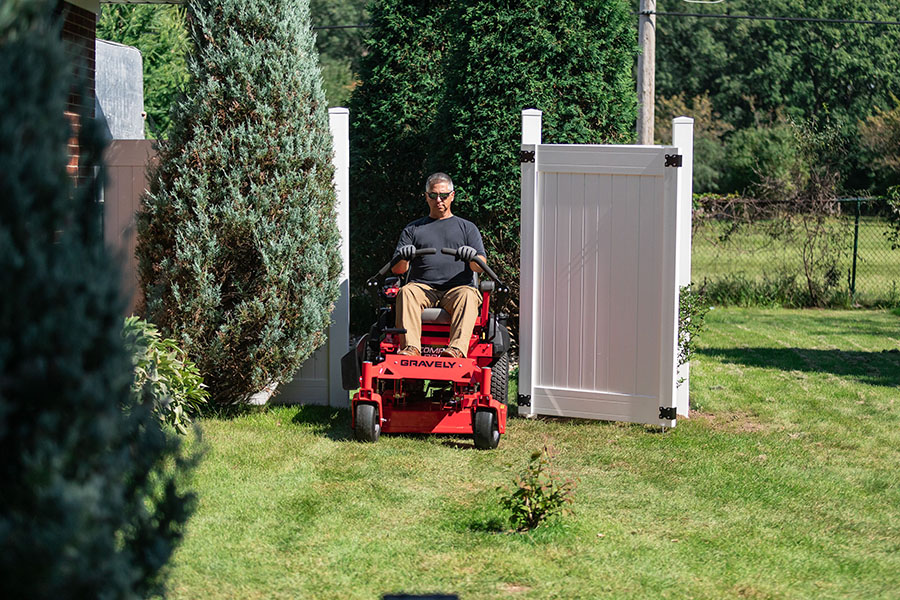 The new Gravely Compact-Pro®
The profile of the new Gravely Compact-Pro mimics the former, however the updated design adds several new features. Besides a strong, fully-welded steel tubular frame designed to be an optimal fit to both of its deck sizes, the most notable addition is an improved user-experience feature known as the Sidekick™. Sidekick integrates the controls into the armrest, placing the throttle, PTO, choke and ignition controls within immediate reach throughout the duration of each job.
Small doesn't mean less
Despite its small size, the Compact-Pro keeps many of the same innovations as its big brothers, including a fully fabricated, 10 gauge steel deck with a reinforced edge, constant belt tension and forged aluminum spindles. As a true commercial machine, Gravely equipped it with a reputable Kawasaki FX power plant and Hydro-Gear ZT-3100 transaxles. To help keep regular service downtime limited, a flip-up access panel was incorporated into the foot rest and the hydraulic oil expansion tanks are placed in accessible locations.
Of its 34 and 44-inch deck size options, the 34-inch model easily fits through a standard-sized 36-inch gate opening. Both feature a combination foot-operated and vertical pin cutting height adjustment system, and, as expected of a commercial unit, deck level and pitch can be adjusted easily and in the same manner as other Gravely zero turn lawn mowers.
"In our case, small doesn't mean less," said Matt Medden, AriensCo Vice President of Marketing. "This package, which is in such high demand among commercial landscapers in some of the most densely-populated spots in the country, incorporates everything in the Gravely DNA. Style, simple design, comfort, durability and performance give commercial landscape professionals all the brand benefits in a size that works for them."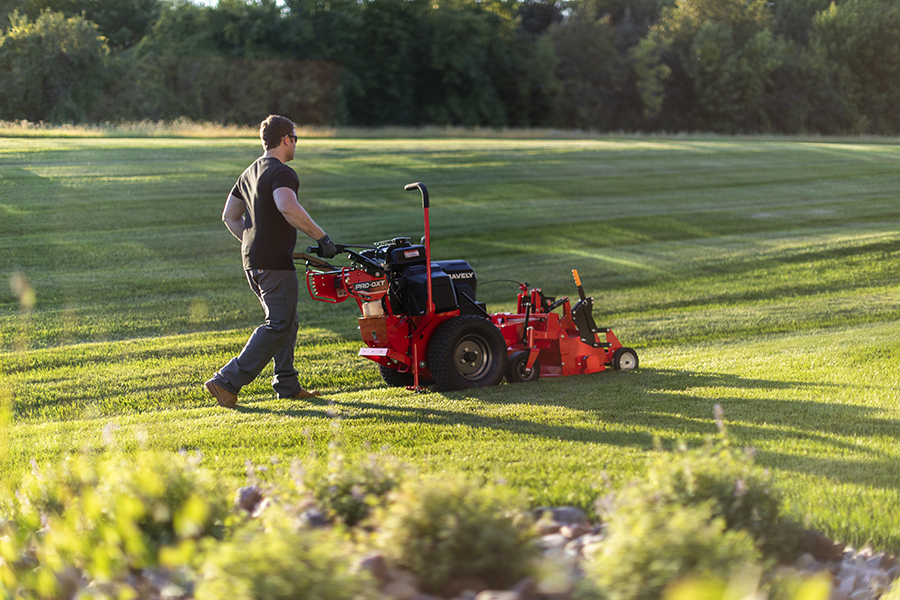 New landscaping equipment
The most valuable professional landscaping equipment in your fleet is that which doesn't sit idle, even through changing seasons. As veteran landscapers know, buying a mower means putting that investment to work during what may be only a portion of the year. Gravely knows this, which is why we added more capabilities to the Pro-QXT® two wheel tractor.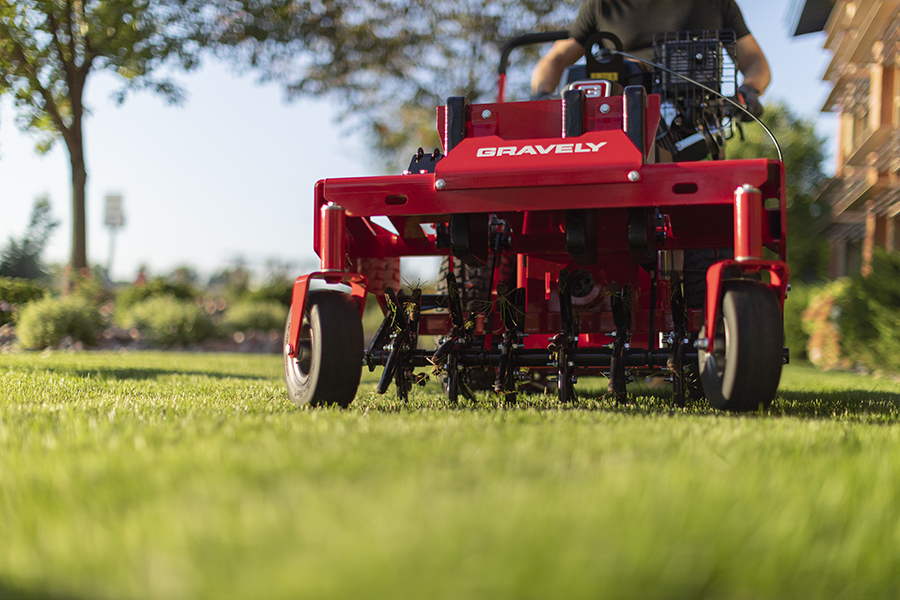 New tractor attachments
Gravely expands the Pro-QXT two-wheel tractor line by introducing an aerator attachment and a dethatcher attachment, offering a total of eight attachments for the Pro-QXT. Since introducing the Gravely Pro-QXT two-wheel tractor, Gravely has steadily expanded its uses to fulfill the concept behind the two-wheel tractor: one power unit using numerous, interchangeable attachments to accomplish several tasks in all seasons.
How to get lawn care customers
Aside from versatility, the two-wheel tractor provides solutions that can help transform yards into lush, beautiful landscapes. Applying lawn fertilizer has its limitations, so this spring, apply new techniques like dethatching and aerating.
What does dethatching do?
Over time, especially after long, cold winters, a layer of dead grass, known as thatch, can accumulate on a lawn bed. While having a thin layer of thatch on your lawn bed insulates lawns and promotes grass growth, having too much thatch is problematic. When thatch accumulates to an inch or more, it can harbor bacteria and insects and prevent grass roots from reaching the soil bed. Additionally, thick thatch layers can keep lawn soil from absorbing water and receiving air and nutrients.
To get greener, healthier lawns, the Pro-QXT dethatcher attachment uses a 32-inch "flail head" configuration to pull layers of dead grass from the soil bed. Operators can also opt for the spring-tine assembly. Additionally, the dethatcher attachment can be outfitted with a fixed-bladed slit seeder accessory to plant new grass.
What does aeration do?
Over time, soil becomes compacted. It's completely natural and unavoidable because of environmental factors and human interaction. When soils become compacted, it restricts the ability for the soil to exchange carbon dioxide with oxygen, absorb water and nutrients. To reduce this issue, the Pro-QXT core-style aerator attachments utilizes seven rows of five tines to pull plugs from the soil to improve air exchange and allow water to penetrate the soil more effectively.
Lawn mower dealers
With anticipation for a high demand of new mowers this spring, Gravely is currently filling its dealers across the country with new products, giving you the opportunity to see them yourself. Even if your last year didn't turn out the way you expected it, that doesn't mean this year is a bust. Gravely offers financing solutions, and the nearest dealership is only a few miles away.