LaserEdge® Self-Sharpening Lawn Mower Blades
Current Blades Not Cutting It? Try LaserEdge® Self-Sharpening Lawn Mower Blades
Lawncare professionals know the importance of choosing the right mower blade. It's got to be durable, dependable, and cost-efficient. Fisher Barton's LaserEdge blades meet these requirements.
What is LaserEdge Eversharp™ technology?
Debuting at the 2018 GIE+Expo as a solution for commercial landscapers working in sandy soil areas, LaserEdge blades use Eversharp technology which is applied to the underside of the cutting edge. As the blade cuts grass, the original blade material begins to wear away and exposes a new LaserEdge cutting edge, maintaining the blade's sharpness much longer than a typical blade. This application redefines the cutting edge by "cutting itself sharp" as the blade wears. This technology maintains sharpness for the life of the blade. Even with dings, the LaserEdge still stays sharp.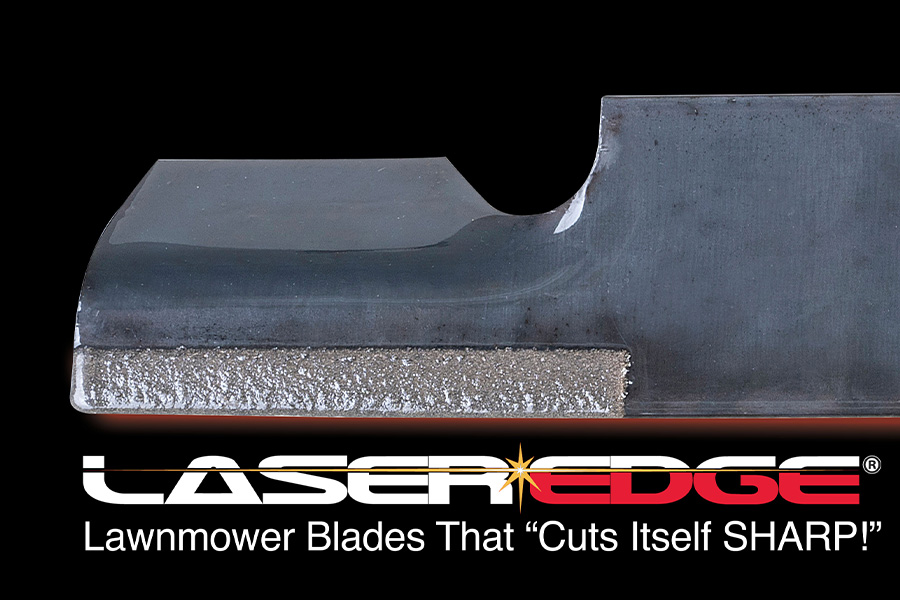 How are LaserEdge blades manufactured?
All LaserEdge blades are created with the industry's best base material from Marbain®. Marbain is created by a specialized heat-treatment that adds strength and hardness to the blade. Using AISI 10B38 base material, Marbain blades are stronger, harder (7-12 Rc points harder than industry norm), and last longer than competitive offerings. In fact, all Marbain lawn mower blades are 40% more wear resistant and 40% more bend resistant than standard lawn mower blades.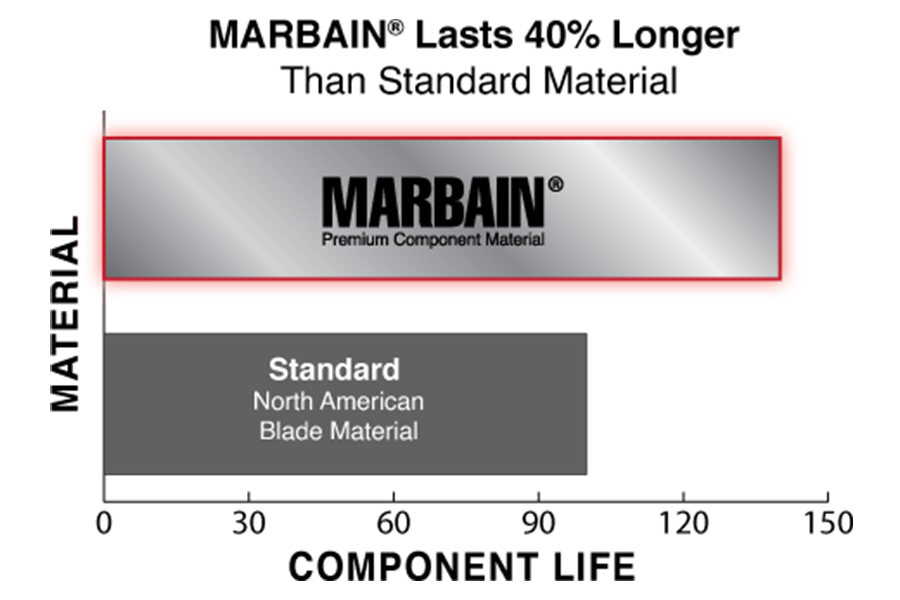 Where can LaserEdge blades make a difference?
LaserEdge performs better than any other product in the most aggressive blade-wearing environments. It excels in the toughest mowing conditions including the mowing of southern state grasses like centipede, Bermuda, St. Augustine, Zoysia and Bahia. Because of this, LaserEdge users experience continuous high-quality cuts, less maintenance downtime, and most importantly, more profits for their businesses.
6 Reasons to use these blades:
1. Maintained sharpness for the life of the blade
2. No need to sharpen so less mower maintenance
3. Blades cut grass cleanly creating healthier, green lawns
4. Increased fuel efficiency (up to 22%)
5. No mower downtime
6. No sharpening costs/time

Learn more about LaserEdge blades at your local Gravely dealer or purchase them online today.
About Fisher Barton: Fisher Barton is a manufacturer and innovation partner trusted by Gravely for high wear and cutting components. Their expertise stems from world-class talent who understand the behavior of material and the application of proprietary heat treating and thermal spray solutions that reimagine a component's lifespan beyond the core manufacturing capabilities of stamping, bending, forming, cutting, welding, machining, and casting. Fisher Barton is more than a source for high-quality parts; Fisher Barton is your partner for the highest quality solutions found —anywhere. For more information, visit www.fisherbarton.com.