Using Social Media to Grow Your Landscaping Business
​Social media is an essential tool to running and growing your business. These websites and applications enable users to create and share content while participating in an online social network. Some examples of social media include: Facebook, Instagram, Twitte​​​r, and YouTube.
Why is social media so import​ant?
Whether we like it or not, we're in the digital era and social media is extremely influential in consumers' lives and buying decisions. Many consumer​​s today automatically turn to social media to learn from someone else's customer experience before purchasing a new product or trying a new service. Customers today demand trust in your brand before committing dollars to it, and they seek that trust through content on social media pages like product reviews and comments from users talking about their experiences with a product or service – like your landscaping service.
Don't take stock in social media? You might not, but millennials with increasing purchasing power do. Social media has quickly grown to beco​​me an extremely powerful business tool. Do not underestimate its worth.
How to use social media f​​or your business
Take some lessons from our Gravely Ambassadors' playbooks. These landscapers, and many more, leverage social media to shar​e their work, tips, tricks and industry insights with global audiences that extend into the thousands. Additionally, these platforms provide a space for followers and customers to interact directly with the company, owner, brand, or each other.
Eddie ​Brown from Brown Brothers' Lawn Care in Olathe, Kansas, has a Facebook, Instagram and YouTube profile. Aside from the visual content he uploads to all three platforms, Facebook turns his page into a business profile that gives users the ability to see his work, contact the business directly through Messenger, and read and post customer reviews.
Be up-front that you're selling something. Leverage your social posts to inform your audience that your service has a customer b​enefit and point them to the contact information in the "About" section of your profile.
Using Facebook in​ business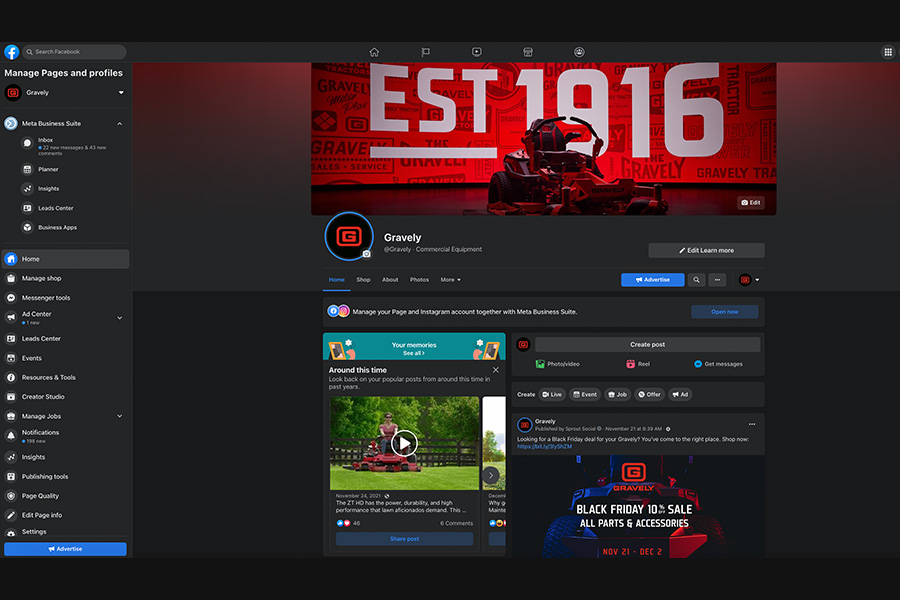 Facebook is a gre​​at tool for business owners, and setting up a business page is very easy to do.
Why can't I use my personal Facebook for my business? Unlike your p​​ersonal profile, a page is made specifically for businesses and brands. It is fully customizable and allows you to add photos and information about your business such as address, contact information, a link to your website, business hours, products, etc.
How to create a bu​​​siness page on Facebook
Setting up your busine​ss page on Facebook is simple. Follow these steps to create your page:
​S​ign Up​

​​To create a business page on Facebook, you must have a personal account. Once you set up your personal account, go to Facebook.co​​​m/business and click Create a Page. A prompt appears that allows you to select what type of business you're making the Facebook page for. Once you select the type of business, you will be asked to fill in details about the business like the name, address and phone number.

​Add Photos​​​​

O​nce your page is set up, upload a profile picture and cover photo. It's important to select appealing photos for your profile to create a visual first impression.

Tip: Make sure the photos align with your brand and are easily identifiable with your business.

Add a short description

This is your opportunity to tell people about your business. It should be a couple of sentences, with a maximum of 155 characters.

Cre​​​ate your username

Your username (or vanity URL) is how people find you on Facebook. The username can be up to 50 characters long, but it should be easy enough to remember. Making your username your business name or an abbreviation of the business name is a good suggestion.

Complete your about section

The about section displays a more detailed description of your business than the short description. In this section, add details like your start date, contact information, business hours, and other social media accounts.

Create your first ​​​post​​

When creating your first​ post, make sure it offers value to your visitors when they arrive to the page so they will be inclined to like and follow. Engaging posts can include sharing a post from others in your industry, photos with captions, polls for your visitors to answer, creating events, sharing products or services you offer and much more.
Successful Facebo​​​ok content strategies
It's important to use and post regularly on your Facebook page because it shows followers what your business is about and helps you connect with potential followers/customers. However, content quality is much more important than posting frequency.
"Some of our most engaging posts are those that show our behind-the-scenes operations and photos of our employees. Using a variety of content that showcases different aspects of your business helps improve audience engagement," says Lydia Phillip, social media specialist at AriensCo.​
How to get fol​​lowers on Facebook
You won't have many followers when you create your page. Fortunately, Facebook makes it easy to grow your following. One of the easiest w​​​ays to get the word out about your page is by sending invitations to your current customers and friends.
Another easy way to promote your page is by using traditional marketing techniques like word of mouth or business cards. When you ​​create your page, you are able to claim a custom handle for your facebook page. You can then share that link to your page in emails and on your other social media channels.
Engaging with your followers is one of the most important things you can do on your Facebook business page because Facebook's algorithm​​ favors posts and pages that foster engagement. Create posts and content that start friendly conversations that allow you to interact with your customers and followers in the comments area.
New feature – Make an ap​​pointment
Facebook recently introdu​​ced a tool that makes it easier to schedule and track appointments for business owners.
How to make app​ointments on Facebook
​Go to your business page and ​click the blue call-to-action button below your page's cover photo. Then select the Edit Button.

Select Book With You and then click Book Now and then click Next.

Click Appointments on Facebook to manage your appointments through Facebook. You also have the option to link to your website to book through your own booking system if you have that set up.

Click Start Setup and then click Next if you want to show your available appointments. If you don't want to show your available appointment, click Not Now.

If you chose to show your available appointments, set the days and times you want to regularly offer appointments on your calendar. Select your time zone and then click Next.

Adjust your preferences for things like appointment approval and advance bookings and then click Next.

Review your services a​​nd information. You can view your appointments in an online calendar where you can also manually add appointments yourself.
Using Instagram fo​r bu​siness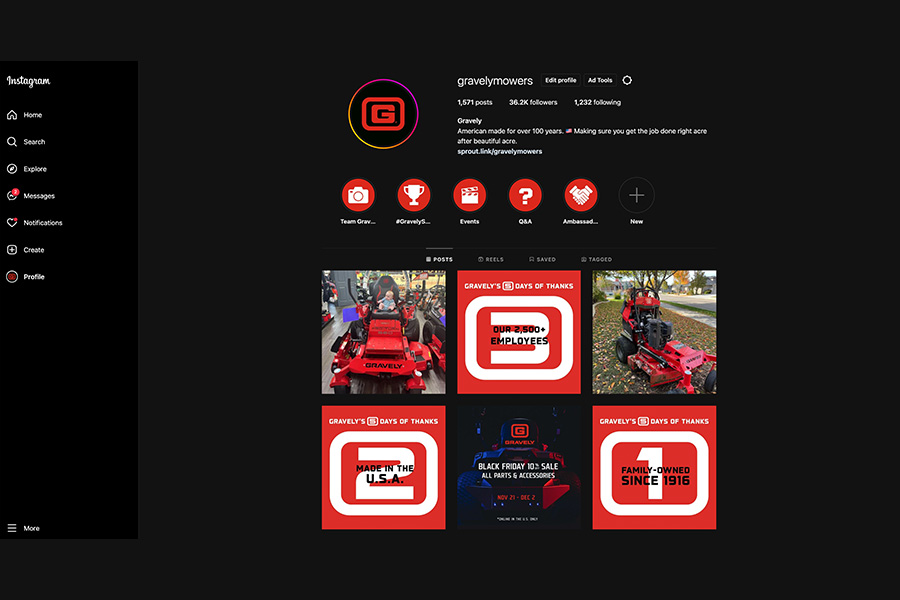 Instagram is one of the fastest growing social media platforms. With more than 500 million active daily users, more businesses are joining the platform.
Instagram is a photo and video based social networking service, and unlike Facebook, Instagram is strictly a mobile application. The app allows users to upload photos and videos, which can be edited with various filters, and organized with hashtags and location infor​​mation.
As a business owner, you can create a designated business account that is set up similar to your business page on Facebook. Setting up an account on Instagram is easy – simply download the Instagram mobile app through the App Store and create an account by signing up with your email address, or if you already have a Facebook account, you can log in with the same information and link the two accounts.
To use Instagram for business, connect your account to a Facebook business page. After connecting the accounts, simply fill out your business information such as email, phone number, and address for your business. From there, you can edit your profile and add details such as a short bio, a profile photo, and website link. You also have the option to edit the name on your profile and your username.
​With your new business profile, you will have access to insights that track your promotions and engagement statistics. Insights help you learn more about your followers and how your content performs with your audience. You can track specific posts, look at interactions like profile visits and website clicks, get insights on posts and promos, and learn about your followers.
Best Instagram features f​​or business
Instag​ram Stories​ allow users to add photos or video clips to a story that is viewable for 24 hours before it vanishes.

Polls allow user​s to ask a question and have a two-option response. Like stories, polls only last 24 hours. However, polls allow you to get direct feedback and engagement from your followers.

Question and ​​Answer allows you to ask your followers a question and receive an open-ended response. When you receive a response to your question, you can either view it or post the response to your story for your followers to view.

Shoppab​​le Tags in stories and posts allow businesses to tag products in their photos. This promotes higher engagement and brings your followers right to a product page.

​Location Tags: Posting a story, photo or video gives the option to add a location. This is important for businesses because it ​shows your followers where you are located and encourages them to visit.
Using hashtags to gr​ow your Instagram following
Gone are the days as referring to '#' as the pound key. The digital era coined this symbol as a hashtag and turned it into the ultimat​​e tool for growing your reach, engagement, and discoverability. When using hashtags on Instagram, it is important to use tags that are relevant to your brand.
"When posting to Gravely's Instagram, we use hashtags that relate to our brand such as #LawnCare and #Landscaping," said Phillip. "Using hashtags that relate to our brand and industry guarantees that our content will be shown to even more people."
Using Twitter for b​​usiness
https://business.twitter​​.com/en/basics/intro-twitter-for-business.html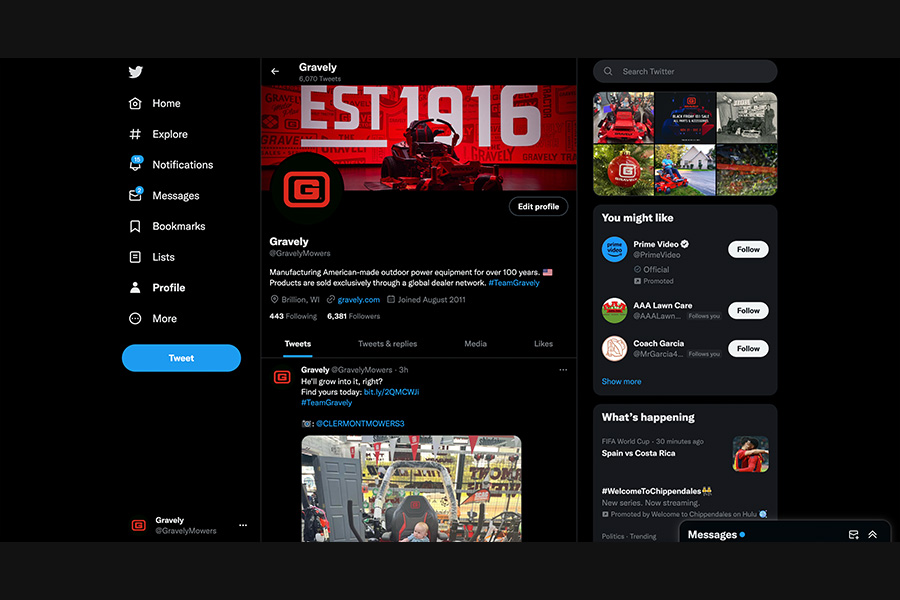 Twitter is another impo​​rtant social tool for business owners. Twitter is a fast-paced, concise, and easy way to connect with you audience. Users craft messages called "tweets" of 280 characters or less which allows for quick information sharing with large networks. Twitter has quickly become one of the largest online news sources, which makes it the perfect place for businesses to share information about their products, services and brand.
How to cre​​​ate a Twitter profile
Like other social media platforms, Twitter is intuitive and simple to set up. Simply use your name, email, and birthday to create an account. From there, you will create a username, which will serve as your Twitter handle, or the name that appears after the '@' symbol. Your handle is your unique identifier. It can contain up to 15 characters and should help users easily identify your busine​​ss. Be careful when choosing a handle because this is permanent.
Once you create your account, you will be able to customize your profile. Within your profile, you can choose a custom profile picture that represents your business or brand. Be picky when choosing this image because this is the image that appears next to all your tweet​​s. Aside from your profile picture, you can also customize your bio and header image. Like your profile pictu​​re, these items should represent your business and be informative.
Best practices when t​weeting
Keep i​t ​​short. Focus on one specific message rather than many. Remember, tweets can only be 280 characters longs, so get your point across in a sentence or two. If you do have more information, consider attaching a link to a blog, your website, or a video.

​​Include a visual in your tweets. Including ​​a photo, video, or GIF adds personality to your message and is highly engaging. In fact, Twitter reports that people are three times more likely to engage with tweets that contain videos or photos.

​​Use rele​vant hashtags. Focus on keywords that are relevant to your business. For example, if you are a landscaper you could use #Landscaping and #LawnCare. Twitter recommends you use no more than two hashtags per tweet.
Ask​ questions and run polls. Twee​ting a question or using Twitter's polling option is a simple and effective way to interact with your audience. Asking questions can create conversations between you and your followers and help gain insights on their opinions.
Engage with followers. Easy ways to engage with your followers are retweeting and replying to their tweets. Customers love to talk to businesses directly on Twitter. Check your Twitter frequently and respond to any questions, comments, and criticisms you receive.
How to use You​​Tube in business
YouTube is a video-sharing website that is home to more than one billion unique visitors each month, which is what makes it so attractive to ​​marketers and businesses. Aside from Google, YouTube is the second largest online search engine. YouTube allows users to upload, view, rate, share, comment on videos and subscribe to other users.
How to create a​​​​ YouTube account
Because YouTube is one of Google's subsidiaries, users must have a Gmail account in order to create a YouTube channel. If you​​​ already have a Gmail account, simply login to your account and visit YouTube where you'll see a prompt to create a channel.
You can also crea​​te a channel with a business name that has multiple managers or owners. To set up your brand account, sign in to YouTube on a computer, go to your channel list, and choose to create a new channel. After you select create a new c​hannel you will be prompted to fill out the details to name your new channel and verify your account. From there, you will be able to add or remove channel managers.
How to make a​​ YouTube video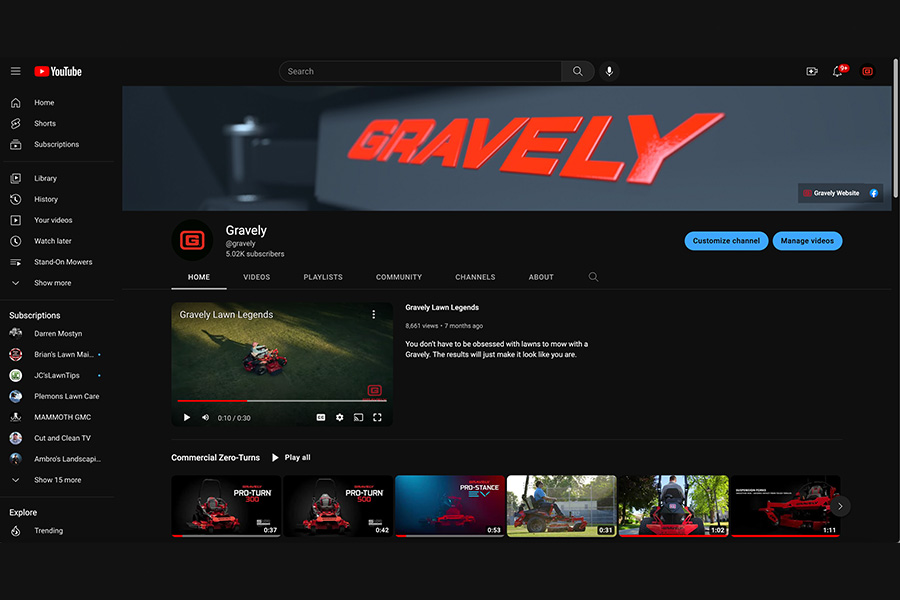 Creating YouTube videos are an easy way to visually show what your business is about and promote engagement with your audience. You don't need to invest in expensive equipment to create a video; all you need is a smartphone with video recording capabili​ties.
​​Login to YouTube and click the uploads button in the top right corner.

​​Choose the video you'd like to upload from your computer or smartphone.

​​As the video is uploading you can edit both the basic and advanced settings of the video.

​In this section, be sure to write a description of what your video is about and create "tags" that are related to your video. This will help subscribers and viewers on youtube find your video.

​Click "Publish" to ​finish uploading a public video for YouTube.
Advertising on social me​​dia platforms
Advertising on Facebook an​​d Instagram
Like Google, advertising space can be purchased on social media platforms. Facebook Business allows users from all levels of expertise to create highly ​​​customized ads based on an objective, target audience, ad placement, your budget and more. Like Google, it guides you through an easy-to-follow process for creating your ad, but Facebook takes it a step further by providing ad buyers with tips on each step of the buying process and by offering a library of marketing courses through Facebook Blueprint.
Facebook owns Instagr​​am, so the ad buying process between the two has little difference. Ad customizability is based on user demographics, behaviors, interests and location, and purchases on either platform can be made through Facebook Business.
"Instagram is photo-centric, so we suggest using your most appealing images to showcase your work and get attention from new audiences in your service area," says Phillip.
Advertising on T​​witter
Too busy to keep creating these ads? Advertising on Twitter offers similar options to Facebook Business, but it also has a subscription featu​​re that allows you to focus on landscaping or your other business operations while it automatically promotes your content. Activate Twitter promote mode for just $99 per month and pair with Twitter Ads so the promotions target the parameters you defined, such as a specific geographical area.
Want to k​​​now if your ads are working? Twitter, Instagram and Facebook alike provide ad users with an analytics dashboard to help you track your progress and understand which groups your spend is most effective with.
Social media mana​​​​​gement tools
Social media is a tireless beast. Content on Facebook, Instagram, Twitter and more is continuously being generated, shared and consumed, 24/7. Mainta​​ining your social presence manually can be overwhelming, but thankfully there are many free and paid tools available that both help get your feet wet and allow you to level up without a high cost or time investment.
Hootsuite is a robust social media management platform that allows brands to schedule posts, respond to audience engagement and review analytics of your activity – all from one location. No need to log into Facebook, Instagram separately. It's easy-to-use​​ app allows you to manage your profiles on the go.
It also allows you to search for and curate relevant content from others. Staying on top of the conversation is easy with social streams ​that allow you to monitor keywords, locations and more.
Pricing ranges from $29 – $599 per month with options that fit your budget and scale as your brand and audience grows.
Buffer is an easy-to-use tool for scheduling your social profile posts. Rather than using individual social platforms separately, create and schedule posts from a single platform. Buffer also allows you to create a custom schedule based on the best times your audience sees your posts, or however you want them to be posted. You can also schedule different posts on different social platforms. With the additional web browser (like Firefox, Chrome, etc.) plugins to help you easily share and schedule articles, as well as Android and iPhone apps, you can stay on top of your social media game anywhere, including the jobsite.
Analytics are at your fingertips, displaying relevant metrics for post engagement. Have more than one person contributing to your social media activity? You can manage your team members within Buffer.
Buffer pricing ranges from $15 – $199 per month.
Loomly helps you manage your social media presence in the way most comfortable to you via a calendar view, list view or post overview – whatever way allows you to process your posts efficiently. Monitor trending topics, blog feeds, Twitter trends to find your next post inspiration. Organize your photos, videos and other media in one location, and create post templates for each type.
Audience targeting allows you to narrow your focus to those wanting to see your content. You can also interact with your audience and respond to their comments and reactions. Loomly's analytics allows you to measure post performances in real time after they're published. You can then identify which topics and content types your audience is most interested in at a glance and incorporate this information back into your planning process.
Pricing ranges from $20 – $228 per month.
Sprout Social is an easy-to-use tool for social media management. Sprout allows you to schedule, post, comment, and send messages all from one place. Its publishing tool gives you an easy to read calendar view. Monitor and respond to private messages and comments from their smart inbox tool. Manage your workflow by assigning tasks to other users in your brand/company and approving posts before they go live.
Sprout also includes a reporting tool which allows users to measure post performance in real time and directly compare their brand to competitors at a month-by-month glance.
Pricing ranges from $99 – $249 per month.​