Why It's Important to Claim Your Google My Business Location
How to put your business on Google maps.
There's so many ways to increase awareness for your brand, business or company, that it can become overwhelming to consider all the technical, seemingly complicated options ​available to invest in. A very easy, free and incredibly helpful tactic that any businesses can implement is to claim their Google My Business​ location.
This information will explain what Google My Business is and how to claim your business' location so it works for you by displaying your business on Google (including Google Maps) and driving footsteps to your door, your email inbox and phone number.
What is a Google My Business loc​​ation?​
Google My Business (GMB) is a free tool developed by Google to allow business owners to create a profile that displays their name, address, website link, phone number, hours of operation, photos and reviews online so it can appear in a Google search result. Once created, this profile page is displayed on both mobile and desktop devices in relevant search results. Below is a sample for Brillion Power Equipment, a Gravely dealer: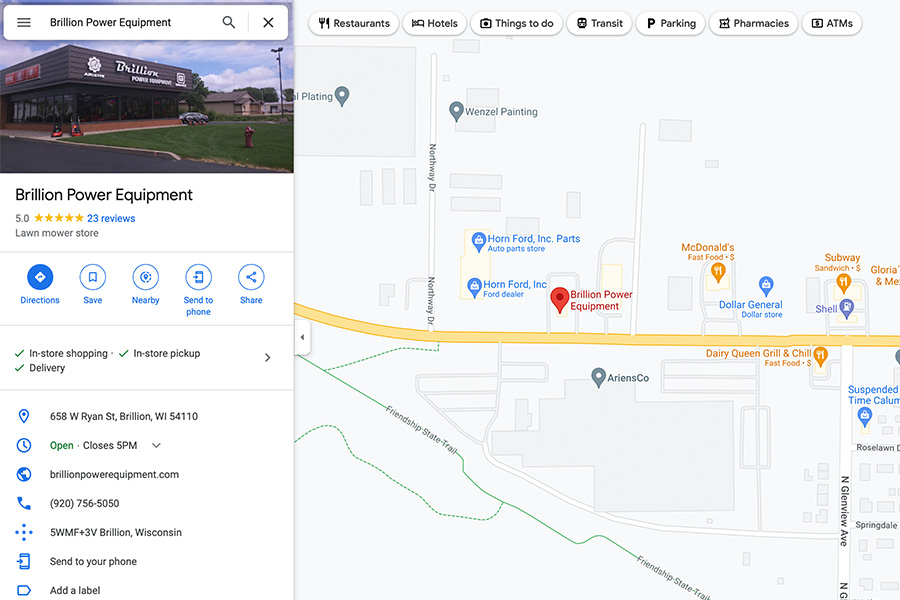 Five reasons to create a​ GMB profile
There a several benefits to claiming a Google My Business listing:
​​​Claiming your profile allows you to control the information that Google displays. If you don't claim your listing, Google tries to provide the best information about your business, which isn't always correct. By claiming your GMB profile, you can verify and edit all the information about your business as it appears on Google.

Without it, you don't know what people are writing about you. A Google My Business profile also hosts customer reviews, and without claiming your GMB profile, you won't be notified when someone submits a review of your business. By claiming the listing, you can monitor and respond to reviews.

GMB listings allow you to appear in a geographical search. Have you ever used a "near me" search on Google Maps? Using Google Maps is an increasingly common form of search for products and services in the cities and towns where consumers live and visit. Google Maps is incredibly skilled in finding business locations, and GMB listings are displayed prominently in a Google Maps search results. With over 70% of all searches going through Google, that's several opportunities to attract new business.

Google reviews are necessary for today's consumers. Reviews are an integral piece of Google's algorithm. What that means is that business profiles with more reviews, especially more positive reviews, are favored in a Google Search and pushed higher up the search results food chain. Additionally, customers are becoming more reliant on third party sources in making a purchasing decision. Many of whom are so accustomed to the availability of product / service reviews, they require that level of verification from other consumers about their experience with your product or business before they trust you with their dollars.

"Consumers want proof that a business is accountable to the expectations of their customers," says Aaron Abler, AriensCo email marketing and content specialist. "That's why it's so important to utilize a platform that both captures and allows you to respond to customer reviews. Whether engaging with positive or negative reviews, it shows that your brand or business cares about your customers' satisfaction – and that's huge in winning business and being awarded contracts."

Increase your website SEO. If you're not familiar with SEO, or search engine optimi​zation, have a look at a previous blog post​ we put together that introduces you to the fundamentals of SEO.

By claiming your GMB profile (and the GMB counterparts at Bing and Yahoo), you're adding quality web links that lead consumers back to your website called backlinks.

"Backlinks from other highly-respected websites is the foundation for building trust in the eyes of search engines," says Bart Raboin, AriensCo web specialist. "These help boost your website's search engine results page rank (SERP), or the position of your web link among all the other results of a Google Search. For example, being positioned on page one of a Google Search result instead of on page 245."
​If you think your business could use an online boost, dive into the easy steps to getting it done. Even a minimal amount of work in claiming your GMB profile can go leaps and bounds in web success.
How to claim your Google M​y Business profile
Step 1: Log into the Google account you wish to be associated with your business, or create a Google account if you don't already have one. A Google account can be created by clicking on "Create account" at accounts.google.com.​
New accounts have the option to be associated with personal use or for business use. If you just want to create an @gmail.com account, use the "for myself" option. If you want to tie Google to an existing brand email, such as xyz@nameofmybiz.com, choose the "to manage my business" option.
Once you have completed the creation process, sign into the account.
Step 2: Go to https://www.google.com/business/ and enter the name of your business and choose a business category. This tells Google what type of business you're in and which type of search results your business should be displayed in. After that, select the next button.
​


Step 3: If no street address is associated with your business yet, you'll be asked if you want to add an address, select yes and press the next button to add a street address.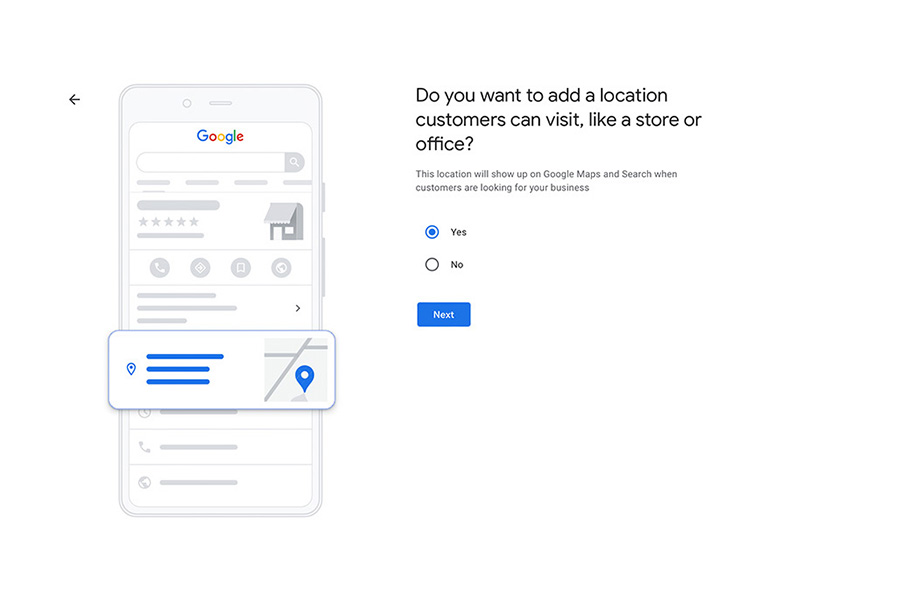 Step 4: Then you'll enter your business address and move forward.
​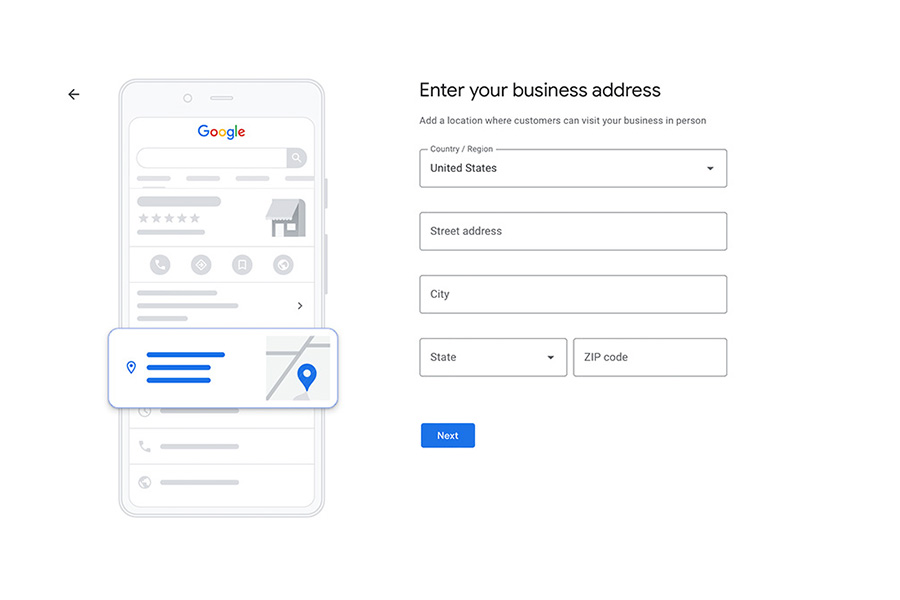 Step 5: If your business name or address matches another business, you may see this screen asking if this is your business. If not, choose 'this doesn't match' and select next.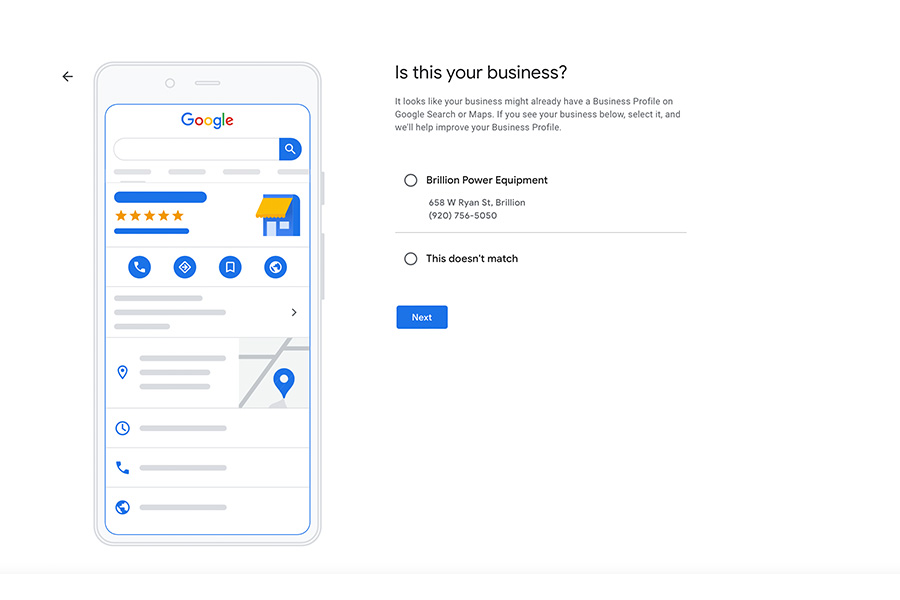 Step 6: Next, let Google know if you provide deliveries or home and office visits. If so, you'll declare which geographical locations you service.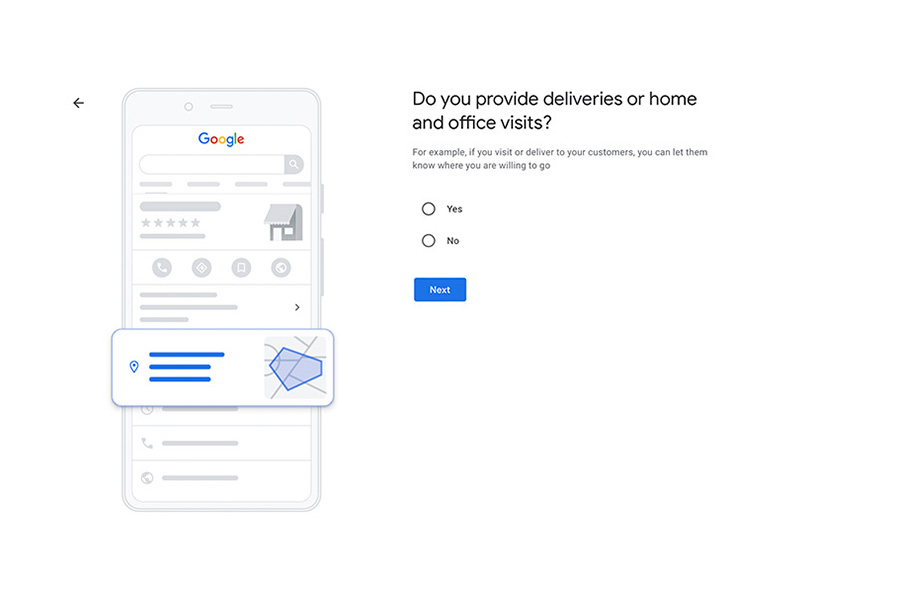 Step 7: Add your business phone number and / or the name of your website.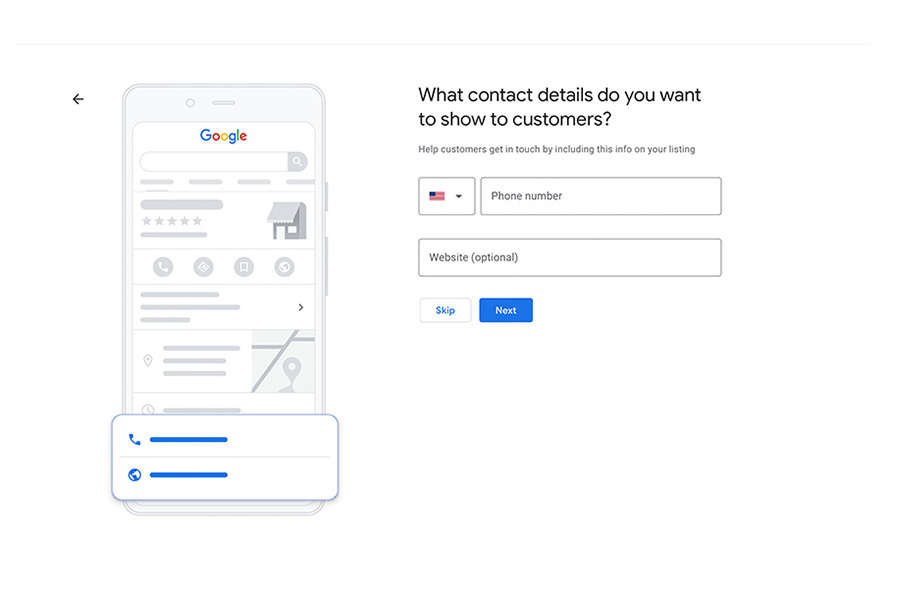 Step 8: Choose a verification option. Before your business listing can be displayed, you must verify that it exists. There are several ways in which this can be done, but the most common are:
​​Postcard Verification
Make sure your business address is correct, add a contact name (optional) and have Google send you a postcard. Google will send a postcard with a code on it.

Once you receive the post card (usually takes about five day​s), log back into your Google My Business account. If you have more than one business location, select the location matching the address the postcard was sent to. Finally, click "verify now." In the code field, enter the verification code on your postcard and click "Submit."

If your postcard doesn't arrive or you lose it, you can log into your GMB account and click the "request another code" banner at the top of the screen to try again.

​​Phone Verification
Google may allow you to verify your location by phone. If you see "verify by phone" in the list of options, ensure your business phone number is correct and choose that option. Google will call the number on file and provide you a verification code. Write that code down and enter it in the verification field and click 'Submit'.
​​Optimizing your GMB Listing
Now that you've finished verifying your GMB profile, you can begin adding all the important information about your business. From the GMB dashboard, click your location listing and select "Info" in the left column menu, then choose a section by clicking the pencil icons to edit each one.
Add as much information as you can, including a business profile photo, the geographical area you serve, hours of operation, your website, etc. It is important to update this information whenever it changes to keep your GMB listing accurate and your users happy with the online experience.
One of the most public areas of your GMB listing is your listing description. This 750-character description of your company needs to be informative, clean, grammatically correct and optimized for SEO. Remember to use rich keywords.
Customer reviews can also be managed in this space by clicking "Reviews" in the left column menu. Aside from your location and website, reviews are one of the most integral parts of your GMB listing. Interacting with past clients by responding to their reviews illustrates that your business values its customers and feedback. Positive reviews will add value to your GMB listing and will help increase your business's visibility in the search results.
Regularly encourage your customers to leave feedback by sharing a link to your GMB profile and asking them to write reviews for your business.
Like traditional website SEO, Google uses keywords and search phrases to help users find a business in the Google Search results. Therefore, it is increasingly important to add keywords that match your business and services you provide to help potential clients find your business. Additionally, the all important search engine result page rank can be enhanced by taking advantage of useful business profile tools like Question & Answer, Messaging, and GMB Posts.
​Question & Ans​wers
This is a great feature for Google local search. Q&A allows customers to ask questions about your business, products, or services, and funnels them into a single location in your GMB profile where you you can answer those questions. This feature is the perfect opportunity to hear directly from past, present, and future customers and interact with them by answering questions, which could encourage them to do business with you.
​Messaging
Google My Business Messaging is a great way to directly engage with people who are interested in what you have to offer via your GMB listing. To get started, log in to your GMB account and click on "Messaging" on the dashboard. Here, you can set up an automatic message that people will receive after they send you a message. Through the GMB app that you downloaded on your phone, you'll be able to answer the questions of those who prefer using a messaging feature to communicate, rather than a phone call or through a face-to-face conversation.
Google My Busi​​​​ness Posts
GMB Posts are similar to social media posts. These appear in a Google search for your GMB listing. Unlike posts on social media, Google Posts are removed after 7 days after they publish to GMB.
​To get started with posts, log in to your GMB account and navigate to the "Posts" tab. Once in the Posts tab, select "Create Post." To help increase engagement, we recommend using a call-to-action (CTA), adding an image and including a link to another page or website. Some ideas for GMB posts can include information about an upcoming event, details about a sale or even the latest blog post that was published to your website.
Monitoring your GMB Insights
Insights are the analytics of the traffic to your GMB profile and a look into the methods customers use to search for your business. This shows shows how customers found you in a direct search, which is a specific search for your business by customers who already know that you exist, compared to a discovery search. Discovery searches are the generic and less-specific Google searches performed by customers who aren't necessarily searching for you, but those who find your listing based on their search for a category, product, or service related to your business.
​Where customers find you on Goog​​​le
Did you know you're able to see the number of customers that found you on Google Search compared to Google Maps? You can even break down the reports by weeks, months and quarters to gauge the performance of your GMB profile and learn how customers interact with your profile.
Customer a​​ctions
This section displays the most common actions that customers take when they found your listing on Google. These actions include: website visits, direction requests, phone calls and photo views. ​
Direction requests
This section of Insights uses a map to show where people requesting directions to your business are coming from. This report is only available if you have a physical address as a part of your GMB listing.
Phone calls​
This shows the times and frequencies of calls to your business by customers who called your business directly from their smartphone while viewing your business listing on Google. The graph shows calling trends by day of the week and time of day. This insight is only available if you list your phone number as a part of your GMB listing.
​Photo views
Last, GMB allows you to look at how often your business' photos are being viewed with the photo views graph. You can segment based on all photos, owner photos and customer photos, as well as in time periods by week, months and quarters.
​New featur​​​es
​​Booking Button Feature
Adding a booking button to your GMB listing is easy and will help your business stand out among others. Potential customers can book appointments through your listing in less than a minute.
To add this feature to your listing, log in to your GMB account. If you have an account with one of Google's supported scheduling providers, your booking button has been automatically added to your listing. If you do not have an account with a supported provider, you will be prompted to sign up.​​
After signing up, you will be able to add a "Book Now" button to your listing and you will be able to track your bookings directly through GMB.​